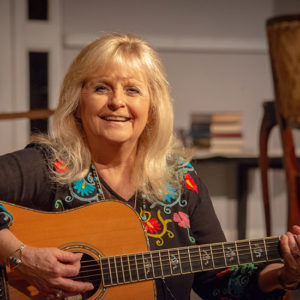 Dottsy Dwyer
Dottsy Dwyer is a singer/entertainer who grew up in Seguin.  She is a fifth generation Seguinite and is married to attorney Robin Dwyer, also a fifth generation Seguinite.  They have two children, William and wife Cecily and their two children Caylee and Caleb and Spencer Dwyer. 
During the 1970s and 80s, Dottsy recorded on the RCA label in Nashville and released 12 singles and two albums on the National Country Music chards.  Eight of the 12 reached the top 20 and four were in the top 10.  She also recorded on the Tanglewood label for three years releasing three more single records which also charged in the top 30.
In the 1990s Dottsy was inducted into the Country Music Association of Texas Hall of Fame.  She records on the Heart of Texas record label and continues to travel and sing traditional country music.  She has traveled for many years all over the U.S., Canada and Europe sharing her music.
Dottsy graduated from Seguin High School in 1971 and attended  the University of Texas until 1975 when she signed with RCA.  She and her husband returned to Seguin in 1989 and restored his family's home, built in 1852.  She has been an active member of the Seguin Conservation Society for the past 30 years holding positions of board member, past-president, and is acting vice-president for 2019.
Dottsy has been on many boards including the Seguin Chamber of Commerce Beautification Committee and the Destination Seguin Board which met for six years to decide which Seguin city improvements needed to be on a major bond election.  During the 90s she worked with the Seguin Convention and Visitor's Bureau and the Seguin Conservation Society to create a "True Women" Historical Tour.  This tour attracted over 20,000 tourists to Seguin.  Dottsy was a Step-on Historical Tour Guide for several years.
Dottsy promoted the Texas Theater restoration project and now entertains at the Texas Theater three or four times a year with the Heart of Texas Road Shows.  Dottsy loves her home town and continues to work on many projects to promote historical restoration and tourism.